WHAT 2020 TAUGHT US
The past 12 months have given us all something to remember
but it is with positivity and strength that we look forward to the next 12 months.
Let's look back over the last year of design at Live Edge Design and be
reminded of the beauty of creations that were made possible by you,
our loyal and lovely clients. 
Let's toast to 2021; "May your troubles be less, your blessings more bountiful,  and your bubbles bigger."
It has been such a pleasure getting to know you all a little closer this year;
attending meetings with your cats and my kids, enjoying yoga classes with you
and virtual champagne soirees across borders.
May these fun and fascinating connections continue into the years ahead!
Take care, Donna
JANUARY 2020
A dining table of walnut, another of arbutus and a trip to visit our friend,
Chef George, at the Farm Table Inn to cook up a flaming dessert
on the Portare induction
cook top table.
FEBRUARY
A trip to Texas to visit our pieces at the Renaissance Fort Worth. and a
dining suite with an ocean view on Vancouver Islands West Coast.
MARCH
A resin filled river table made from oneTree slabs, oak end tables
with a shapely base and a river table of maple.
APRIL
Walnut table with hourglass base, bleached maple with bronze
base and a cascade coffee table in maple and steel.
MAY
Rich tones of ekki and walnut paired with steel bases and cascading metal rivers.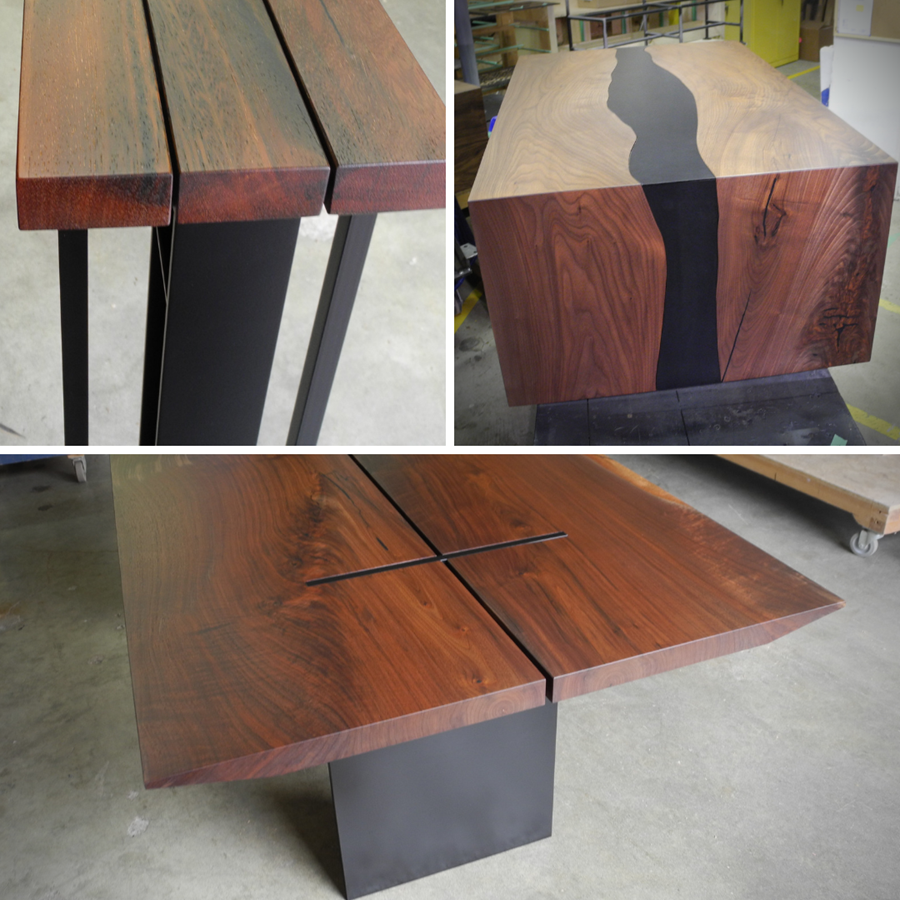 JUNE
Marvelous maple grain with rock river and clear resin coffee table,
Square walnut dining table with pedestal base and steel inlay
detailing and a river of blue resin with ocean waves in the
custom coffee table.
JULY
Elegant dining with rippled maple grain mirroring the lake ripple view outside.
A gorge based coffee table and a maple facetted stump table.
AUGUST
Outdoor teak dining table with ice well for wine. A river dining table
with an ocean view and a round river dining table soaking
in the sun on a stunning  remote island.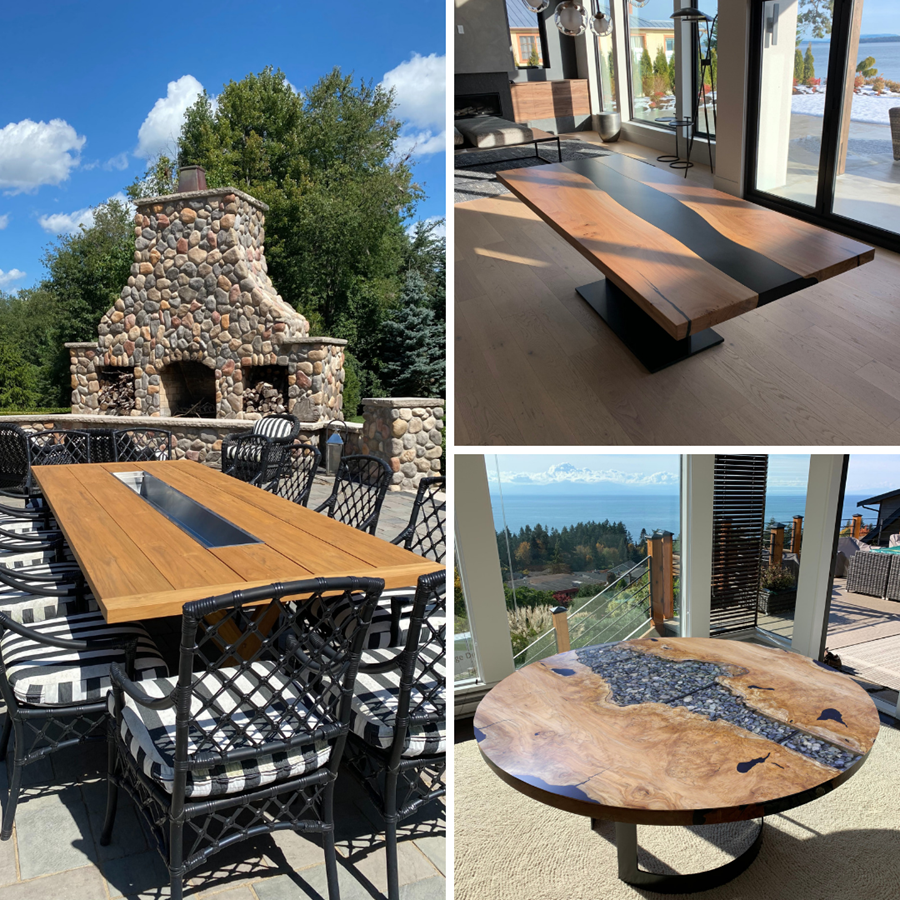 SEPTEMBER
Matching end tables made of maple burl, a metal river dining table with
trestle base and a wine cabinet, centerpiece, like no other.
OCTOBER
A captivating headboard art piece, a mid century modern desk fit for a
product designer and live edge walnut dining table with class.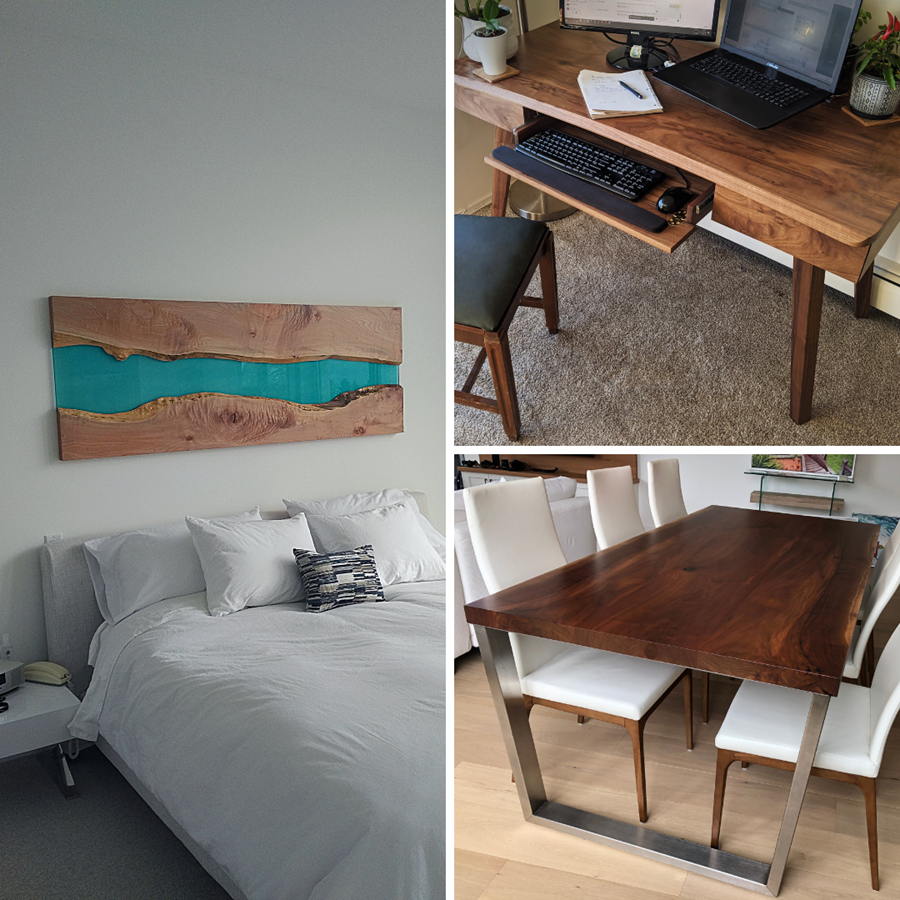 NOVEMBER
Custom banquet seating and leather upholstery. A maple and resin
board room table and a round river dining table with a view of the forest.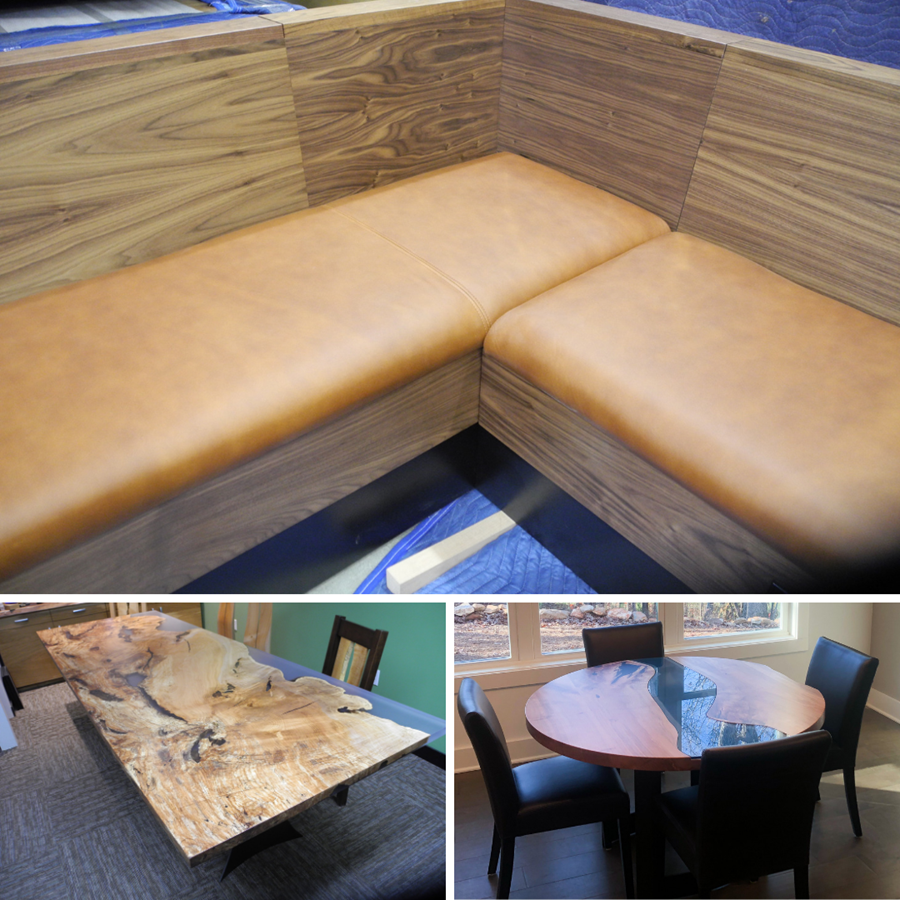 DECEMBER
A round Arbutus dining table with west coast rocks and shells.
A maple and walnut dining table with angular steel base.
A maple mantel focal point in Nanoose Bay.